Contrary to a first generation Learning Management Systems (LMS) JumpTrak was built from the ground up with the learning, not administration, at its core.
Education content is dynamically linked to objectives, with real-time visibility, analytics and assisted custom learning paths.
JumpTrak is deployed annually to thousands of learners for formative and summative assessments, dynamic learning content and media rich courses and curricula.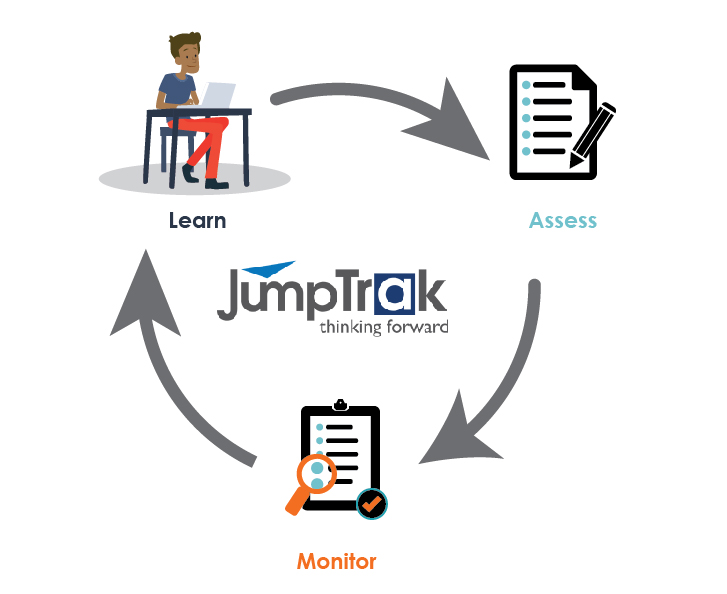 Since 2010 we have deployed thousands of benchmark assessments with the analytics, correlations and remedial assisted learning paths. Current examples include SETA Certified SAQA qualifications, tertiary nursing, and mathematics, literacy, robotics and science within basic education for private and government institutions.
Note: It is important to note that JumpTrak caters for any formal or informal training, skills development and educational context. The deployments may vary but the platform is the same and can cater for these.
The entire JumpTrak platform is geared to iterative testing with a view to improved learning, custom learning paths and targeted performance outcomes.
In the learning context we often know who "is competent" and who "is not yet competent" but often don't know why, what specific areas to address or how best to deploy the teaching capacity to provide the necessary attention to address these areas.

Self-administrative and configurable
Personalised views and system settings are personalised and critical self-administration functionality facilitates classroom, course and security settings for your organisation.

Secure
All data is strictly on a need to know basis and JumpTrak configures comprehensive role based functionality and permissions.
Formalised assessments are locked to the day and hour of the assessments requiring optional activation codes, all of which are personalised to each learner or organisation.

Multi-language support
Language resource files are used to cater for multiple languages. Publish your textbooks in many languages even into the same class. 
Johannesburg:
Cresta Junction
Block B 1st Floor, Suite 106
Corner of Beyers Naude Drive
and Judges Avenue,
Cresta
2194